Phenix Salon Suites of Cinnaminson, New Jersey
Phenix is pleased to be able to serve Moorestown, NJ and bring another of our gold standard salon suites to Cinnaminson, New Jersey. Phenix is the only choice for the best independent salon and beauty professionals in Burlington County.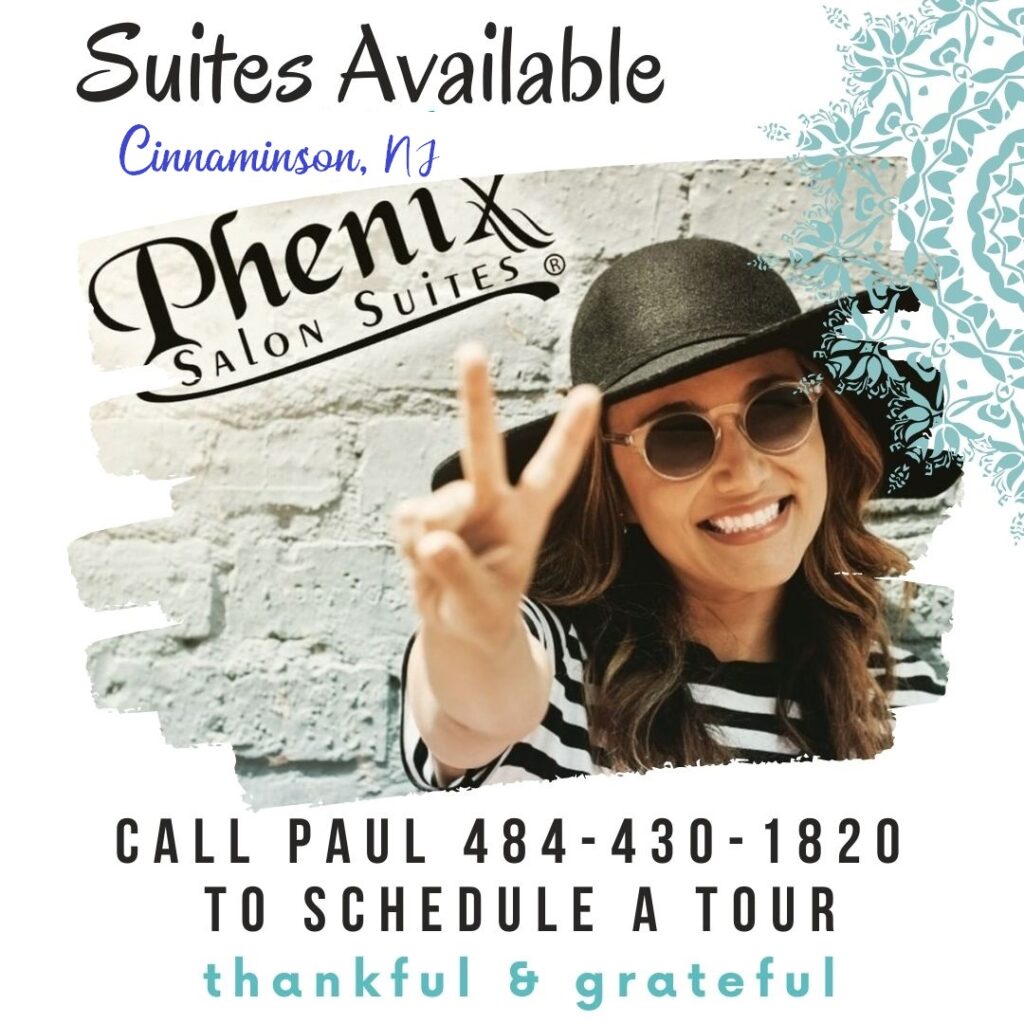 Each salon suite (or studio salon) at Phenix is a separate, fully enclosed, customized room with a private locking entrance for beauty and salon professionals to operate their personal salon business. Each boutique salon is licensed through the Pennsylvania state board of cosmetology, which allows beauty professionals like you the opportunity to actually own your own salon without the risks and high expenses that can come with a traditional salon buildout. Think of Phenix Salon Suites as a mall of beauty businesses with salons, spas and other beauty businesses owned and operated by independent salon professionals like you.
A salon suite provides more freedom, more profits, and more privacy for stylists and estheticians. Your luxury studio salon at Phenix Salon Suites can be decorated however you like, so you can design the salon or spa space that you've always dreamt of owning. You set your own hours, create the schedule you and your family need, make your own rules, charge the prices you deserve, and use the products you love that will benefit your clients best. Should you need anything at all, call us, and a real person will answer your call and take care of it.
Our pricing is "all-in pricing" what that means is that there are no hidden fees. Your suite, the state-of-the-art security, breakroom, intercom system, laundry room we even provide laundry detergent and black spa towels. You and your guests use our high-speed internet and you have access to your business as you would any salon storefront business, 24 hours a day, 7 days a week. Your schedule, your rules. All you pay is one weekly fee and we take care of the rest!
we believe that finding a work life balance is as important as a successful career!
We provide independent beauty professionals with salon studios that provide them with what they need to own the salon of their dreams. In addition to the luxury spaces, we provide the support and tools they need to launch a successful salon business. Our suites are not just for hairstylists, we can also accommodate other types of beauty professionals such as estheticians, lash and brow artists, nail techs, massage therapists and more!
At Phenix we are so much more than a space for your salon… we are your business partner! We will help you get started and also help you throughout the process to ensure your new business is successful.
We pride ourselves on offering high end, modern and luxurious suites designed to be not only beautiful but also efficient. We are proud to help empower beauty professionals to take their career to the next level!
All utilities and amenities including water, electric, Wi-Fi, maintenance and use of the laundry facilities are also included. We go one step further and provide peace of mind that you are in a safe, secure location with owners who have your back.
One of our owners, Antonella is a beauty industry expert who provides marketing and business support to all of our suite owners. Paul and Fred are there to help with maintenance items and you will never have to clean another hair trap again! The best part about our location is that all of our suite owners are part of our Phenix family, we curate a culture of community and support. You are never alone and always have access to the owners and your suite-mates who are like minded independent business owners just like you!
We love to see the unique decor of your luxury salon suites. Your space should reflect you and your brand, so feel free to wallpaper, paint, hang artwork